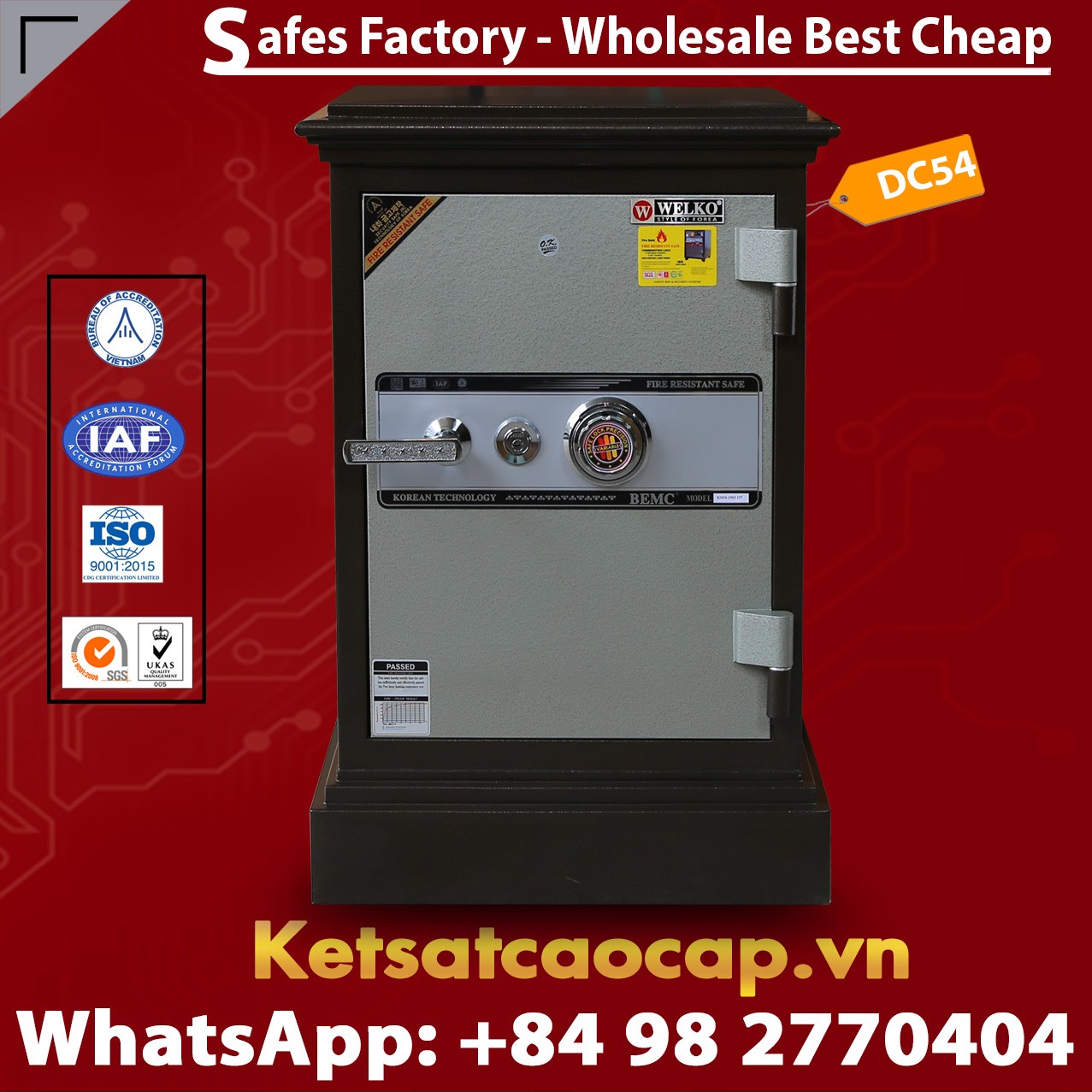 | | |
| --- | --- |
| Tên sản phẩm | Fireproof Home Safes |
| Model | DC54 KC |
| Trọng lượng | 110 ± 10Kg |
| Kích thước ngoài ( C * R * S ) mm | H 820 * W 560 * D 430 mm |
| Kích thước sử dụng ( C * R * S ) mm | H 480 * W 440 * D 240 mm |
| Kích thước ngăn kéo ( C * R * S ) mm | H 210 * W 440 * D 200 mm |
| Tính năng | Anti-theft |
| Khả năng chống cháy | 1000 - 1200°C |
| Hệ thống khóa liên hoàn thông minh | Modern Mechanical Lock |
| Mầu sắc | |
| Thương hiệu | WELKO Safes |
| Bảo hành | 05 Year |
| Giá | $30 - $300 |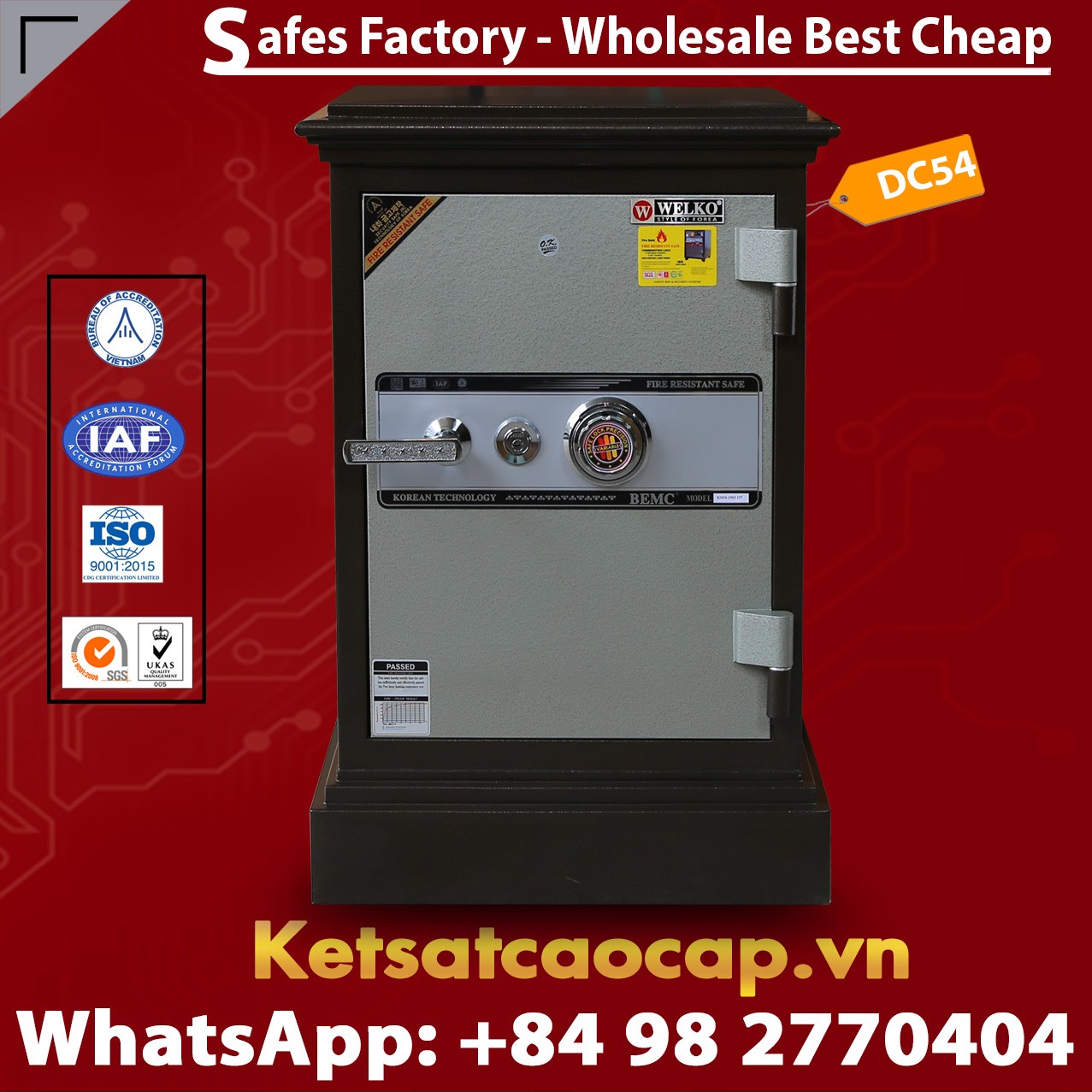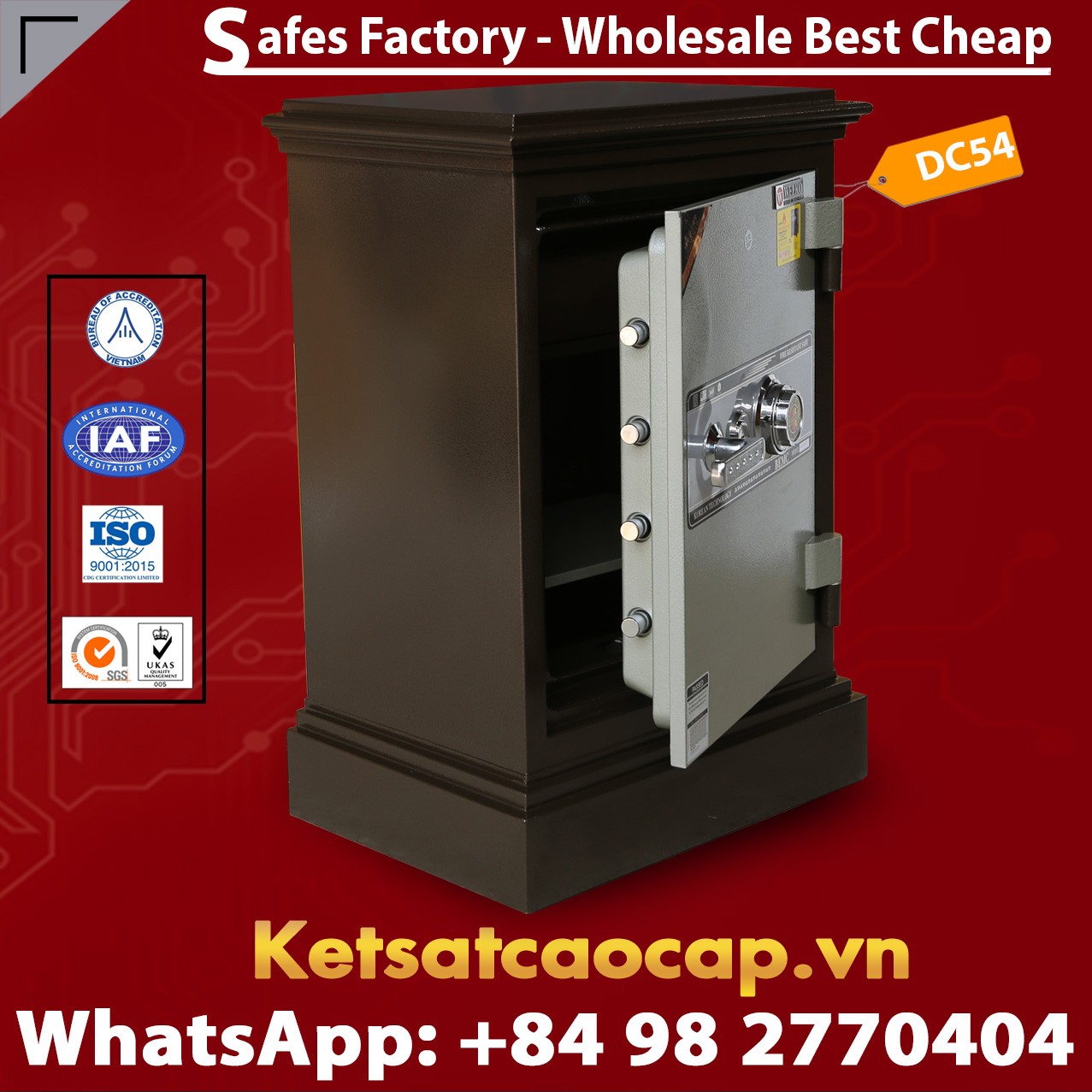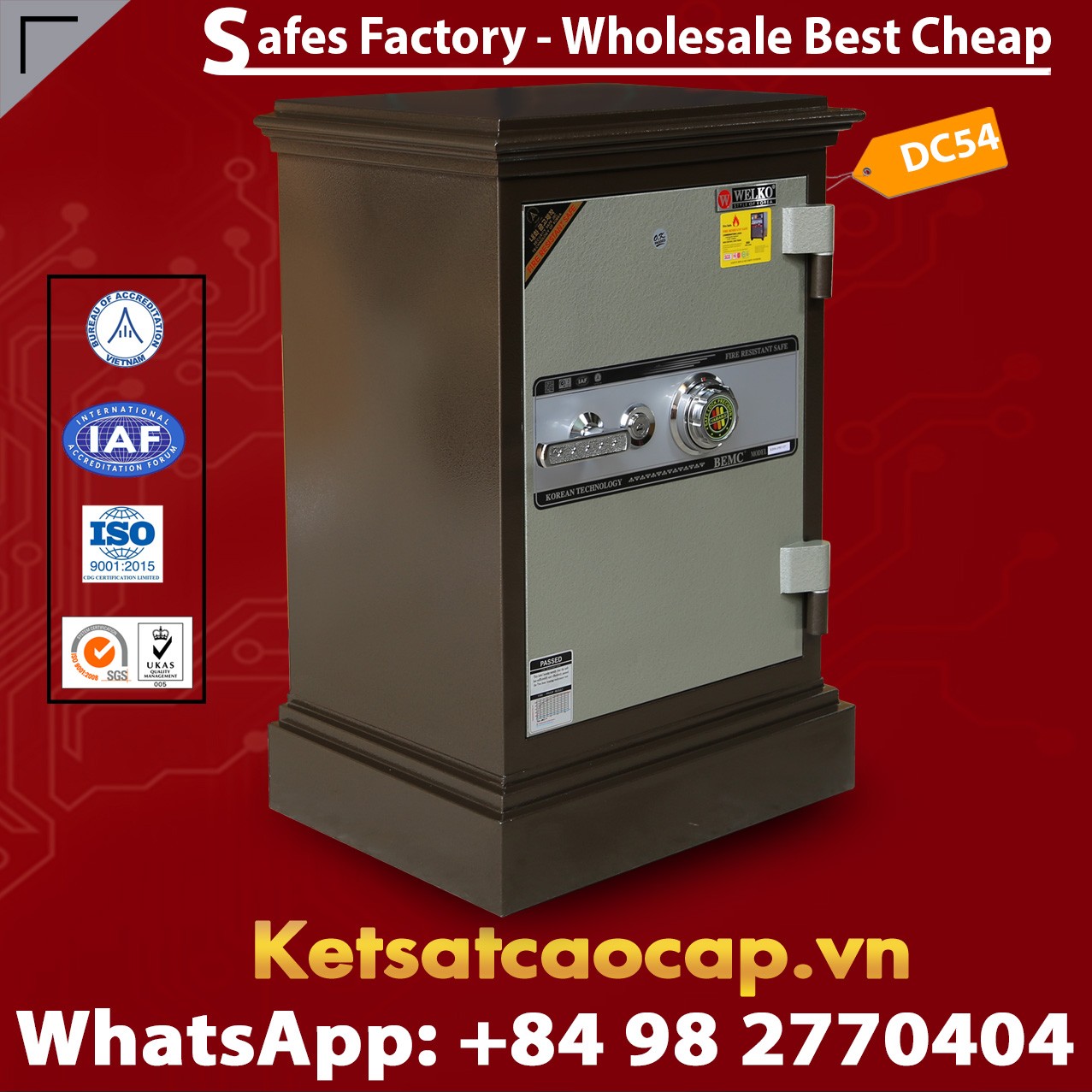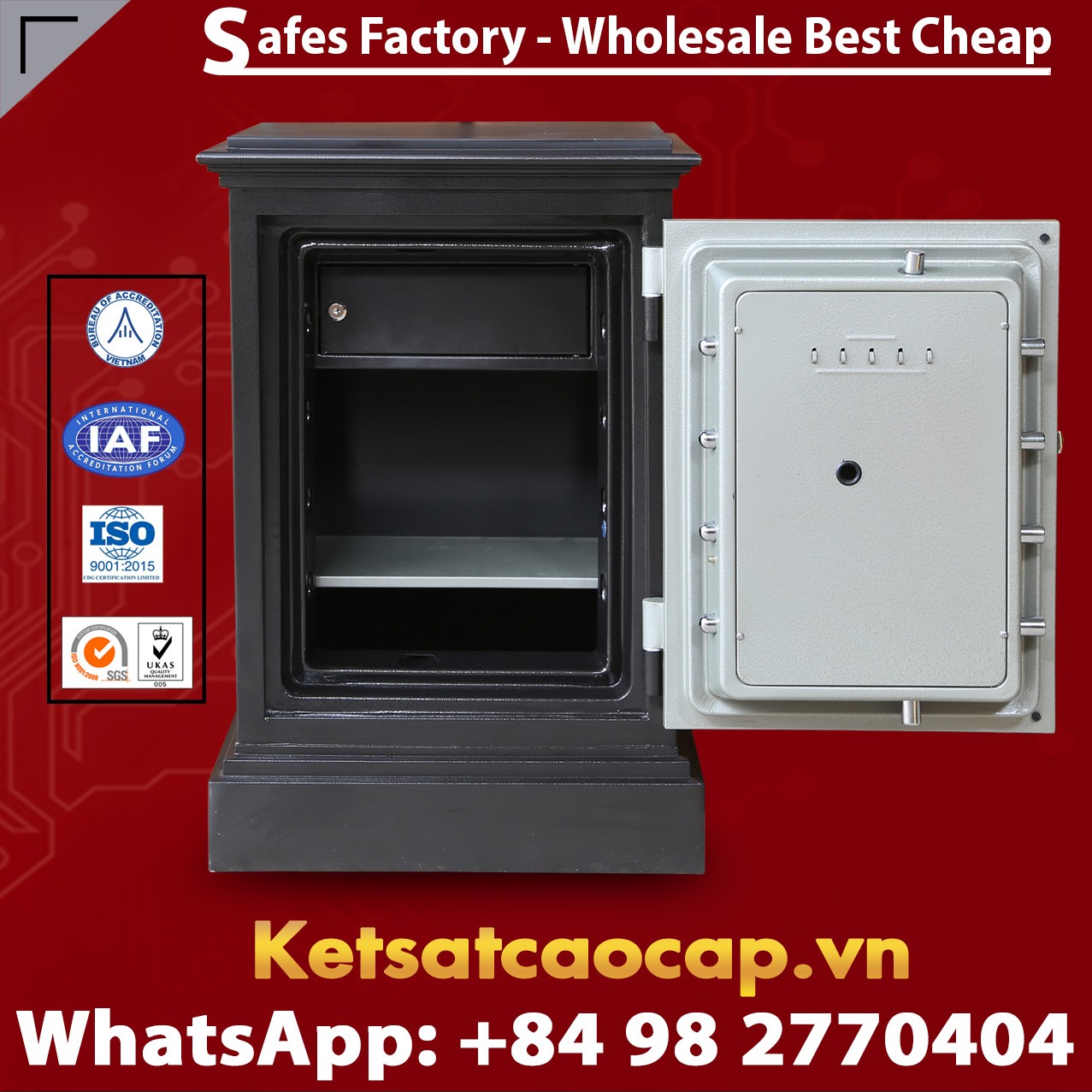 Fireproof Home Safes. Facing the difficulty of distinguishing between genuin safes and real safes on the market today. It is a real concern for many people. So let WELKO Vietnam's leading prestigious brand help you choose! Hotline: 0084982770404.
WELKO manufactures supplies door-molded safes, with quality, prestigious and genuine WELKO door-molded safes, with a 5-year genuine warranty nationwide. Over the past 20 years of development, WELKO is well received by the market and is the leading and reputable brand in Vietnam in manufacturing and distributing a wide range of safes.
Modern Mechanical Lock System
WELKO Safes fire-resistant door-molded safes are high-class mechanical lock safes. Convenient, user-friendly lock design. A key feature of this type of lock is its resistance to changing codes. Each safe will have a unique Feng Shui code from the factory. This will help a lot in case the user forgets the secret code, he can contact the manufacturer to ask for the code again. This series of mechanical locks is perfectly combined with the anti-copy key to increase the maximum security for the safe. Besides, the fire protection feature and high safety lock system are the result of the creation of a hard material that can resist fire at a certain temperature threshold.
This type of mechanical safes are specially designed to isolate in case of fire. The valuable assets inside will always be guaranteed the best safety.
Super Strong Door System
One strong point not to be missed when it comes to WELKO Door-molded safes is the safe door system. The door of the safes is designed with solid casting steps completely under the 10,000 ton hydraulic press. This special design helps to prevent flames from entering the same fire protection layer to protect the safety of internal assets in the event of an explosion. The door of the safes is made of high-grade thick steel emulsion, solid casting, bringing the safety certainty when subjected to strong impacts from outside. 2 outer hinges, the safety latch system on the door automatically turns on - ingests itself into the body of the safe when the door is closed; 180 degree door opening for comfort when taking things. Especially, the two-way latch system is made of high-gloss, high-gloss, but highly aesthetic, very good anti-prick. The inside of the safe door has a convenient 5-hook layout for securing important keys
Anti-latching Bolt System
Door-Molded safes are made up of thick steel plate with extremely strong design, solid double-sided locking system attaching string to the inside of the tank with certainty against dams, drilling holes, exerting strong force from the outside to make sure , safe for important documents, money. In case of fire or theft, you can rest assured choice and satisfaction when using this line of safes.
Door-Molded Safes WELKO Prestige Vietnamese-Brand Market
WELKO safes have standard compact design that can be placed under the table drawers, compatible with all banks.
Designing a security drawer helps increase the safety of important documents and documents. In addition, safe is using nano powder coating technology, you will have a safe, shiny silver safe, not fade over time, scratch, rust and oxidation. Padlock combined with foreign handle, making it convenient to open the safe.
Prestigious WELKO wing-molded safes are applied automatic opening / closing technology by password encryption, can change the encryption up to thousands of numbers, the rate of deviation of opening the vault safe of the vault is 0%, key The lock is designed to prevent copying and foreign handles to create anti-theft capabilities from the surface, convenient for appointing senior officials to hand over the treasury to ensure safety for all banking systems, security. and security is put on top to ensure the absolute safe storage of belongings, cash, important papers.
Home Safes WELKO is designed and built to ensure the safest property protection. Standard thick fire resistant layer with superior fire resistance up to 1,200 ° C for 2 hours.
• Home Safes WELKO fireproof safes use cotton coating technology, this is one of the modern paint technologies. With elegant embossed colors according to the European standard color system. With this technology, the keg will be covered with even, thick and glossy paints, anti-rust and especially durable over time. In the primer layer, there are specialized paints used for ships so it has good salinity resistance, suitable for coastal areas.
Internationational Standard ISO9001:2015
• Safe Box: Manufactured in accordance with European standards and ISO 9001: 2015 quality system management process issued by SGS Swiss certification organization and ISO 14001: 2015 product environmental certification issued by Australian certification organization. With the key is manufactured in Germany, has a certificate of origin and safety certification according to European standards issued by Germany, the digital lock system (mechanical lock) is manufactured in Taiwan according to Dutch standards.
DIMENSIONS
| | |
| --- | --- |
| Model | Door-Molded Safes WELKO DC54 KC |
| Weight | 110 ± 10Kg |
| External Size | H 820 * W 560 * D 430 mm |
| Internal Sizei | H 480 * W 440 * D 240 mm |
| Drawer Size | H 210 * W 440 * D 200 mm |
| Feature | Anti-theft |
| Fireproof Ability | 1000 - 1200°C |
| Lock System | Modern Mechanical Lock |
| Use For | Banks, agencies, supermarkets, restaurants ... |
| Color | Brown |
| Band Name | WELKO Safes |
| Price | $30 - $300 |
| Zalo/ Whatsapp Number | 0084 98 2770404 |
| Commitment To High Quality Products | New 100% |
| International Hotline 24/7 | 0084 98 2770404 |
I. Technical Specification Door-Molded Safes WELKO DC54 KC

✔

Solid fire-proof structure


✔

Weight: 110 ± 10Kg


✔

Internal Size:

H 820 * W 560 * D 430 mm
✔ Internal Size: H 480 * W 440 * D 240 mm

✔ Drawer Size: H 210 * W 440 * D 200 mm
✔

Feature: Anti-theft


✔

Fireproof Ability: 1000 - 1200°C


✔

Lock System:

Modern Mechanical Lock
✔

Use For:

Banks, agencies, supermarkets, restaurants, ...
✔

Color: Brown
✔ Brand Name: WELKO Safes
✔ Zalo/ Whatsapp Number: 0084 98 2770404

✔
Commitment To High Quality Product: New 100%
✔ International Hotline 24/7: 0084 98 2770404