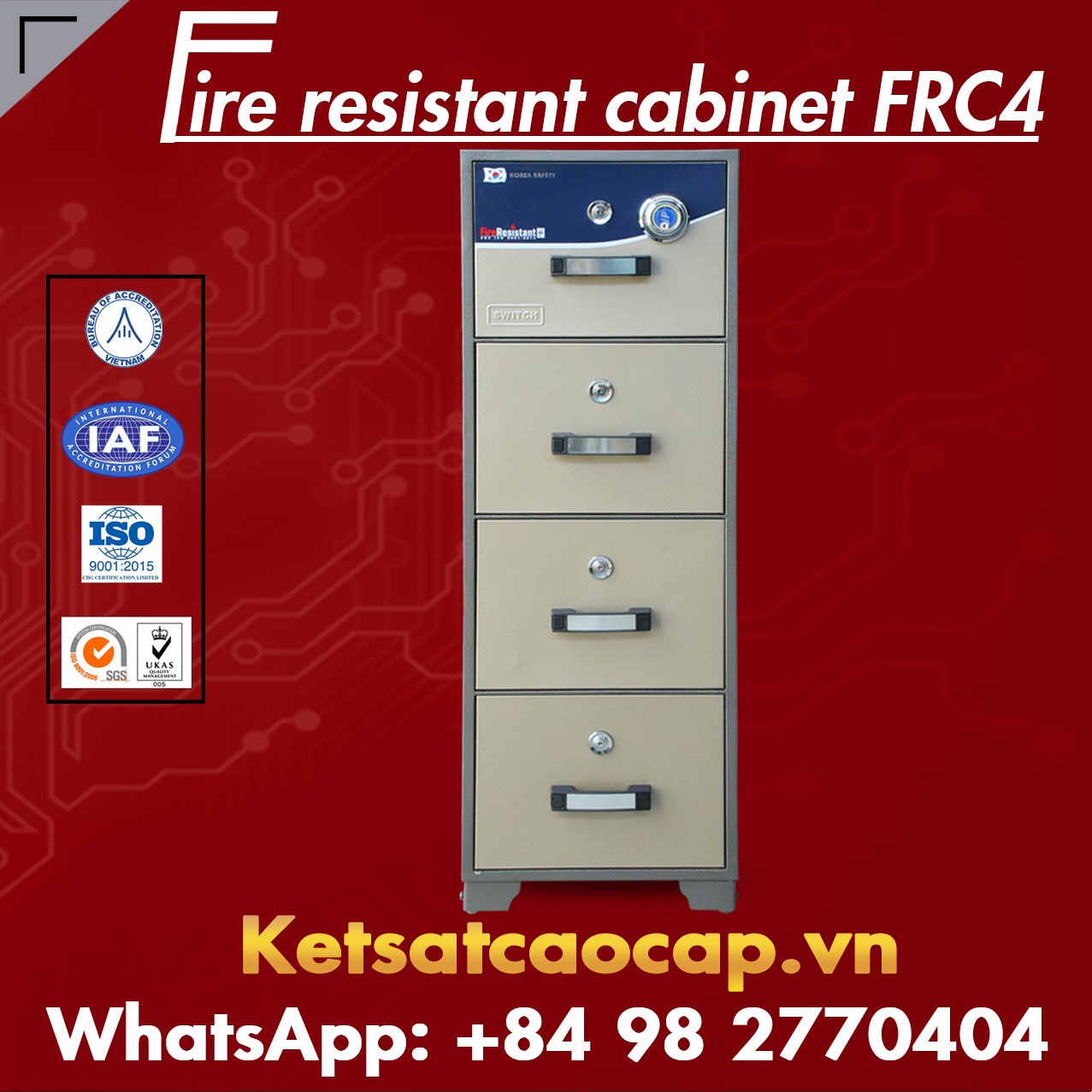 | | |
| --- | --- |
| Tên sản phẩm | Fire Resistant Cabinet Cheap Source KOREA FRC4 |
| Model | Fire Resistant Cabinet KOREA FRC4 DK Brown |
| Trọng lượng | Weight: 320 ±10 Kg |
| Kích thước ngoài ( C * R * S ) mm | External: H 1515 * W 515 * D 680 (mm) |
| Kích thước sử dụng ( C * R * S ) mm | Drawer: H 300 * W 370 * D 520 (mm) |
| Kích thước ngăn kéo ( C * R * S ) mm | - |
| Tính năng | Feature: Anti-theft and Fireproof |
| Khả năng chống cháy | Standard fireproof safety: 1000 - 1200°C |
| Hệ thống khóa liên hoàn thông minh | Lock Type: High Quality Combination Lock |
| Mầu sắc | |
| Thương hiệu | Brand: WELKO Safes |
| Bảo hành | Warranty: 05 Years |
| Giá | FOB Price: $60.00 - $300.00/ Set (MOQ: 100 Sets) |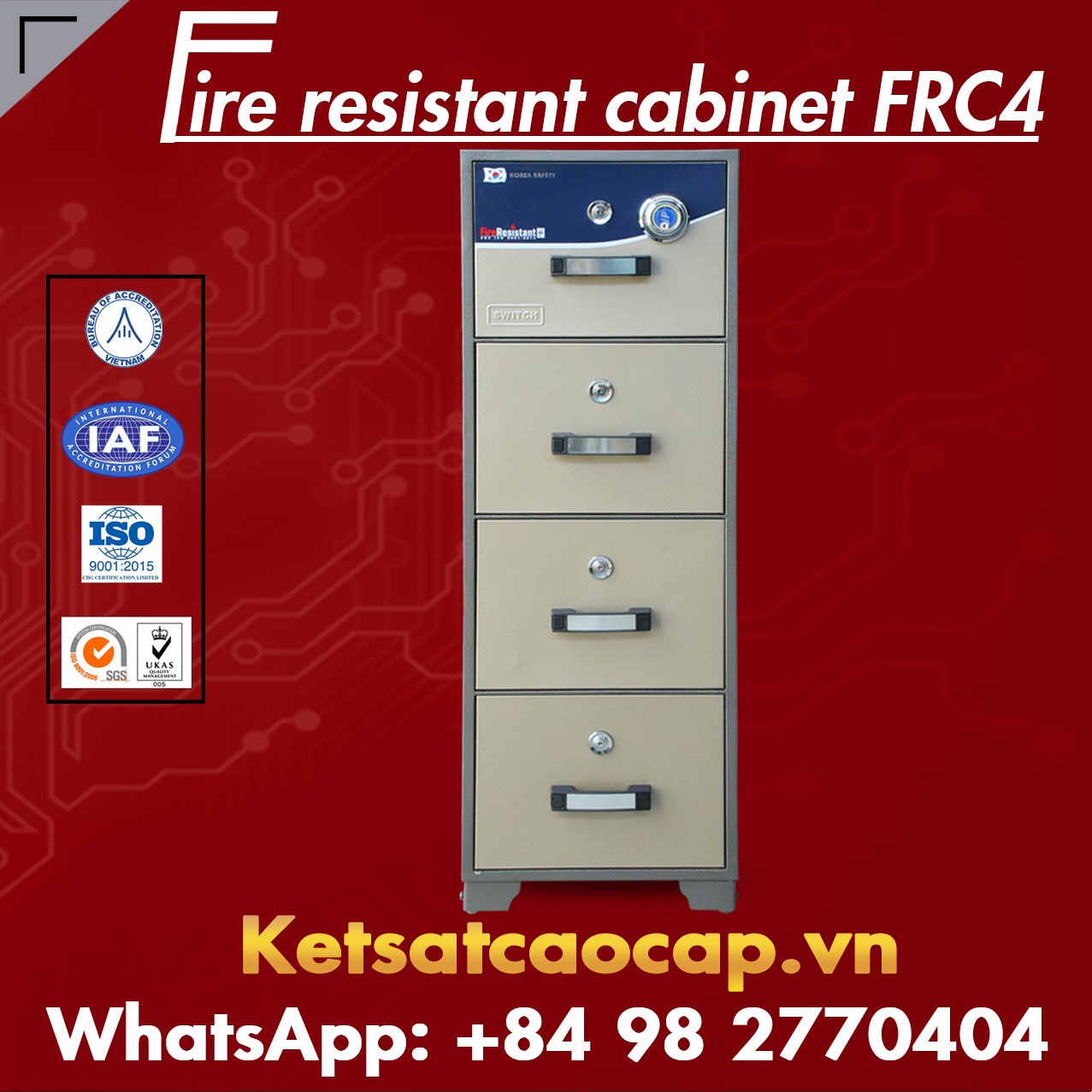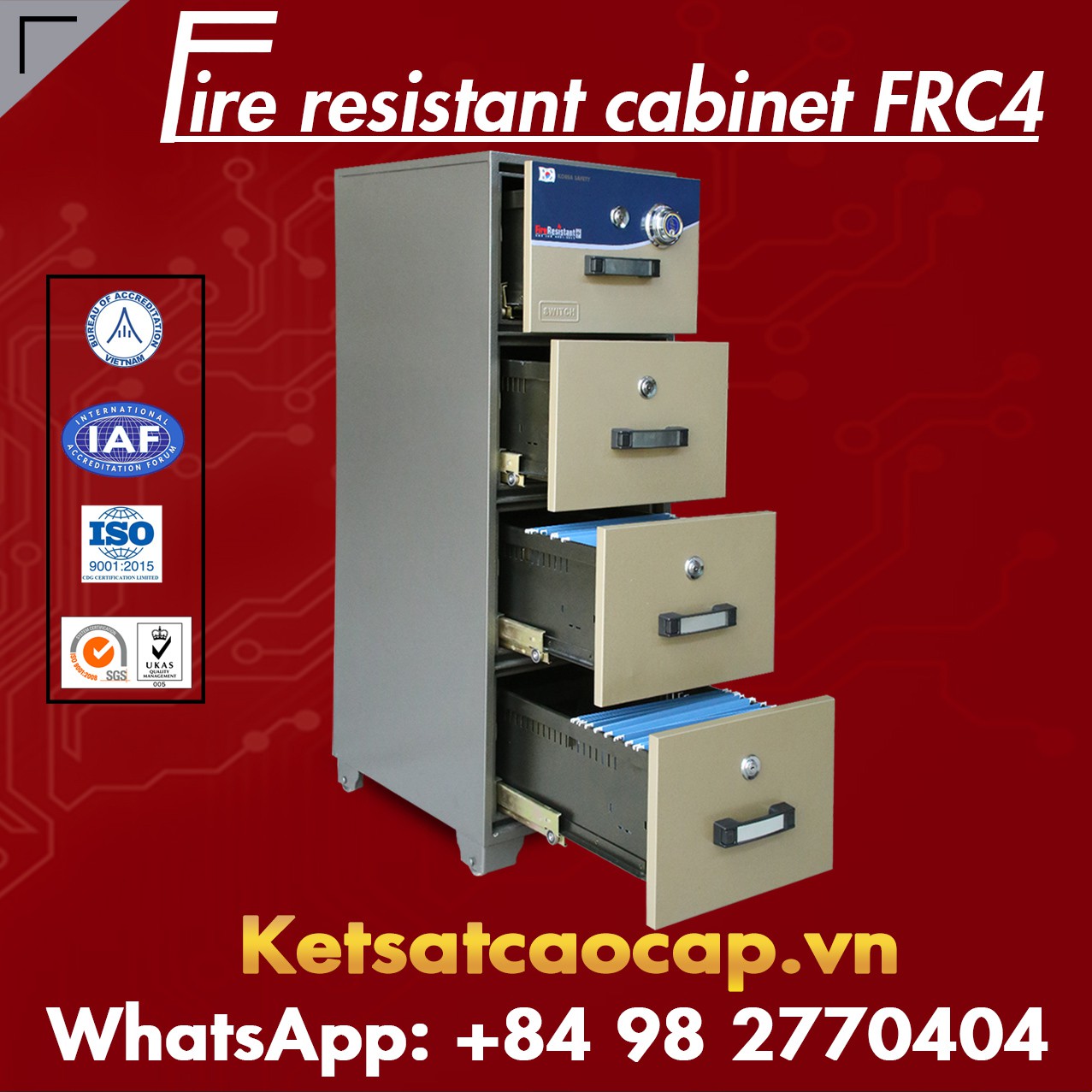 Fire Resistant Cabinet WELKO FRC4 LED Brown. Leading Fire Resistant File Cabinet Manufacturing and Distribution Company in the World
Fire Resistant Cabinet WELKO FRC4 LED Brown

- WELKO Steel Cabinet is a Prestigious Brand with Over 30 Years of Experience. The company always puts credibility first. Manufactory Recruiting 1st level agents to supply Fireproof File Cabinets With Many Top Famous Brands In Vietnam And In The World. Great Deals when shopping for

WELKO Fire Resistant Cabinets

. Guaranteed 100% Original Price, Extreme SOCK Price + We Only Sell At Factory Original Price + Free Delivery and Installation. Manufacturing Factory Recruiting level 1 agent to supply

Fire Resistant Cabinet

. Support Dedicated and Thoughtful Consulting 24/24. Pay At Home or at Work. Professional attentive service, Guaranteed Delivery Schedule. Genuine

W

ELKO Fire Resistant Cabinet

Warranty 03 years At the place of use, Lifetime Product Maintenance.
FIRE-RESISTANT CABINET MANUFACTURER - WELKO

Fireproof File Cabinets with international quality standards, fully meet the needs of customers such as hotel, banking, security, insurance, government, army, IT, Archives, R&D, Foreign enterprises, Computers, Finance, Archives, Engineering in large domestic companies.
Product Features
| | |
| --- | --- |
| Model | Fire Resistant Cabinet WELKO FRC4 DK Brown |
| Weight | 320 ±10 Kg |
| External Dimensions | H 1515 * W 515 * D 680 (mm) |
| Internal Dimensions | - |
| Drawer Dimensions | H 300 * W 370 * D 520 (mm) |
| Type | Fireproof Home Safe |
| Standard fireproof safety | 1000 - 1200°C |
| Material | Galvanized Steel |
| Lock Type | High-Quality Combination Lock |
| Color | Brown |
| Warranty | 5 Years |
| FOB Reference Price | $60.00 - $300.00 / Set | 100 Set/Sets (Min. Order) |
| Place of origin | Viet Nam |
| Packaging | Packed in cardboard, foams, carton box, and straps |
Fire Resistant Cabinet Has Very High Security
•
Fire

Safe Cabinet is used for long-term storage (10 - 100 years) of very important or medium papers and data.
Types of paper storage include important files, deals, coupons, archives, notes, calligraphy and paintings, stocks, bonds, etc., data logging, visual video data, and
flash drive, VCD/DVD, portable hard disk.
To protect the paper and the stored environment with high sensitivity, temperature and humidity changes, dust and dust environment, ensure the safety of your paper and data. We are currently the factory that manufactures and supplies the most prestigious Fire Resistant File Cabinet. With a system of stores spread across the country and around the world... Premium Fire Resistant Cabinets is the company that provides the best Fireproof Metal Filing Cabinets products.
WELKO Steel Cabinet products are manufactured according to international standards SGS:
. WELKO Filing Cabinet meet International standards: ISO 9001:2015 certified number VN16/00059
. WELKO Cabinet is certified for Environmental standards: ISO 14001:2015 Certificate Registration No. 000568-1-VN-1-EMS

. WELKO Fire Resistant Cabinet is certified for labor safety: 45001:2018 Certificate Registration No. 000568-5-VN-1-HS

Features
Heavy-duty vault door and multi-walled body construction

Fire-resistant when exposed to flame at a 1037oC within 2 hours

Super strong locking mechanism and bolts

Prevention of code-cracking, displacement, and breakage of the safes by an alarm system for both combination lock safes and electric lock safes

Luxurious, smooth, fine paint thanks to the modern painting technology
Heavy-duty vault door and multi-walled body construction
Heavy-duty vault door and multi-walled body construction

Super strong locking mechanism and bolts
The drawer for the fireproof files is one of the fireproof Cabinets of medium and large size, manufactured based on the European Safety standard (GRYFITLAB) based on the long experience of experts in different industries. America, Europe, Australia, Korea, in order to safely protect valuable assets, important files, and documents for users.
The Fireproof File Drawer is specially designed to meet the highest Anti-Theft & Fire Safety for users who specialize in storing and storing important documents, files, and other valuable assets.
Packaging
WELKO Fire Resistant Cabinet will be covered with foam and cardboard to protect the keypad firstly. After that Fire Resistant Cabinet will be packed into a carton box and tied tightly with straps, which ensures that the product will be kept protected throughout the process of moving.
Payment & Shipping Terms
- Payment: T/T, L/C
- Shipping: FOB, CIF, CFR
- Loading Port: Haiphong Port, Vietnam
- Delivery Time: 30-45days after sample confirmation
After-sales service
- Providing free spare parts (spare parts including locks, labels, and other relevant accessories) of 2% on the invoice total
amount.
- Taking responsibility for the mass quality problems and arrange corresponding maintenance and replacement at our own charge.
FAQ
Q: Can I get some samples? And is small order under 100pcs acceptable?
A: Yes, sample orders and small orders with our own brand and dimensions are acceptable.

Q: Could you make customized dimensions and designs (logo, label, color, and carton)?
A: Yes, we accept OEM for orders with MOQ is 100 pieces/model.

Q: What's the delivery time?
A: Usually it's around 30 days for 1*20ft container.

Q: What's the payment term?
A: Generally it's TT 30% in advance, 70% before shipment. L/C at sight is also acceptable.

Q: Can I mix several models into one container?
A: Yes, it's acceptable.

Q: How about the warranty period?
A: Normally it's one year.