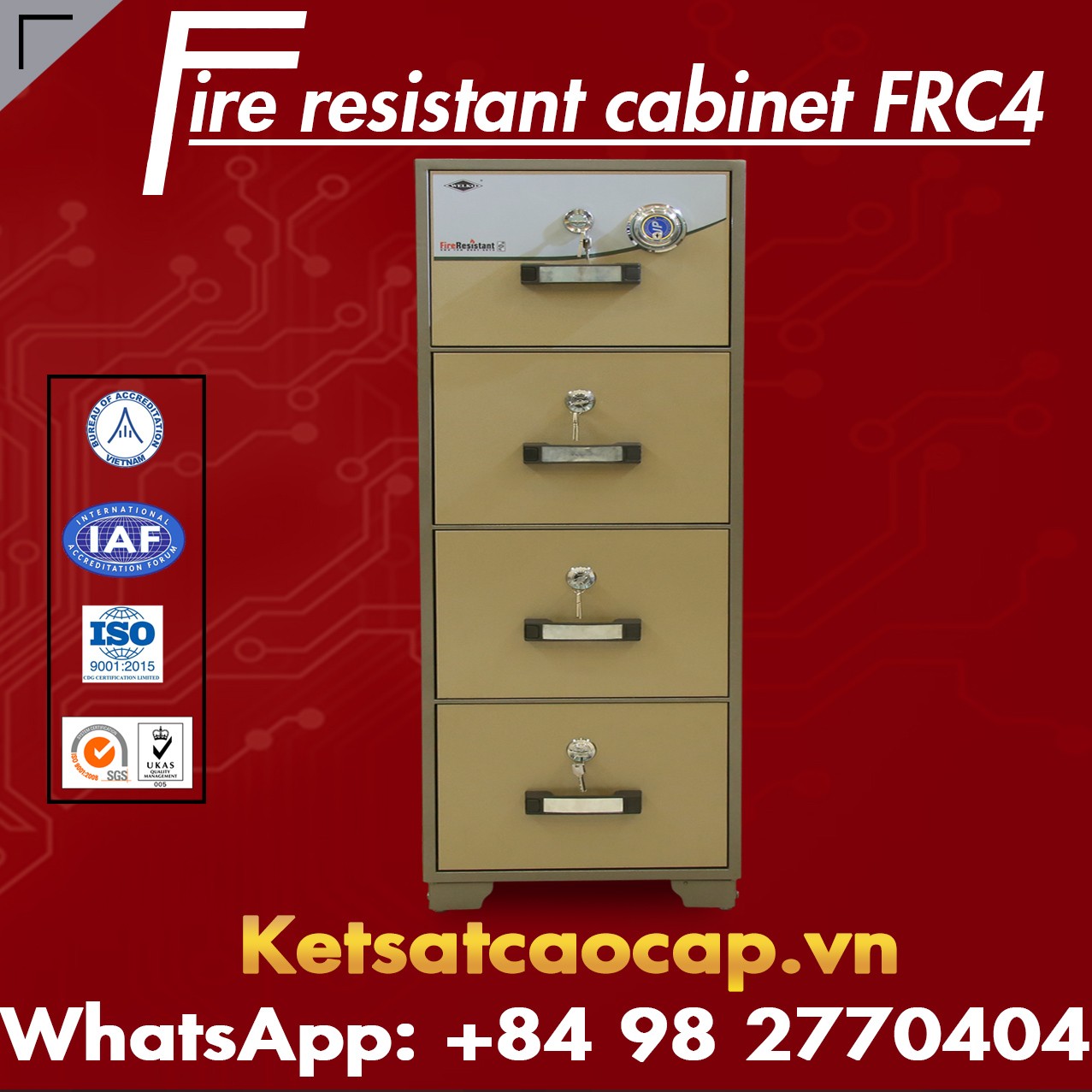 | | |
| --- | --- |
| Tên sản phẩm | Cheap File Cabinets hight quanlity |
| Model | Tủ Hồ Sơ Chống Cháy FRC4 |
| Trọng lượng | 320 ± 10Kg |
| Kích thước ngoài ( C * R * S ) mm | Cao 1500 * Rộng 515 * Sâu * 720 mm |
| Kích thước sử dụng ( C * R * S ) mm | Cao 300 * Rộng 370 * Sâu * 520 mm |
| Kích thước ngăn kéo ( C * R * S ) mm | Có 04 Ngăn Bảo Vệ An Toàn Tài Sản |
| Tính năng | An toàn bảo mật tuyệt đối |
| Khả năng chống cháy | 1000 - 1200°C |
| Hệ thống khóa liên hoàn thông minh | Khoá đổi mã |
| Mầu sắc | |
| Thương hiệu | WELKO Safe |
| Bảo hành | 05 năm |
| Giá | 25,000,000 VNĐ |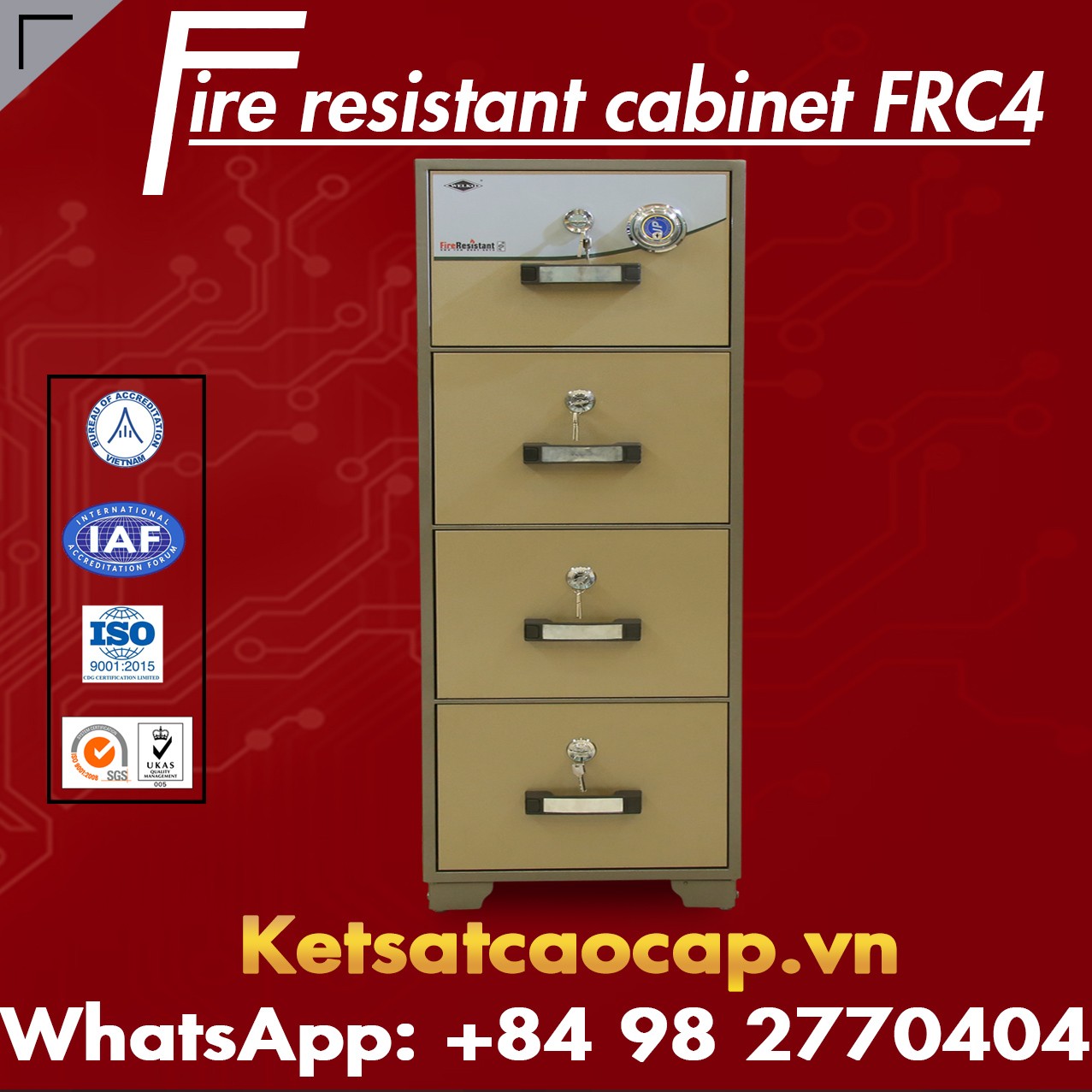 Cheap File Cabinets hight quanlity
Cheap File Cabinets hight quanlity are equipped with a secure encryption system. Modern advanced production technology. Currently, the store selling cheap fireproof safes, WELKO Safes Cabinet, is the leading address for you to choose the line of fireproof safe metal cabinets, which are manufactured by modern production lines. With a series of rigorous standards. ISO 9001:2008 quality control system. Liquidated iron cabinets are products that have achieved certifications and have been selected as a typical product in the industry for many years in a row. Personal file cabinets are powder coated to prevent scratches on the surface.
Has a fixed rubber base or is equipped with movable wheels. Easy to set up. Office iron cabinets are now trusted by companies to equip in their units. With agent stores nationwide. Currently, the company is ready to serve all the needs of choosing office file cabinets of customers. WELKO Safes Cabinet black filing cabinet products are manufactured with high technical background cheap bank file cabinet products Providing 2-wing fireproof security cabinets WELKO Safes Cabinet with high quality and low price is the priority orientation of genuine iron cabinet dealers in Vietnam market. WELKO Safes Cabinet is a fireproof security cabinet with anti-scratch powder coating to ensure safety for users.
The bank file cabinet has high security and beautiful design
Bank file cabinet with Very High Security FRC4 Fireproof Bank File Cabinet is applied automatic opening/closing technology with password encryption. Can change the encoding up to thousands of numbers, the error rate of opening the encryption is 0% The key is designed to be copy-proof and the foreign handle makes it resistant to theft from the surface, convenient for appointing senior officials to hand over the treasury. Ensuring the safety of all systems of the Company, agency, school..., security and safety are the top priority to ensure absolute safe storage of personal belongings, cash, important documents important.
FRC4 uses stone vein coating technology, which is one of the modern paint technologies. With elegant embossed colors according to the standard European color system. With this technology, the cabinet will be covered with even, thick and smooth paint layers, anti-rust and especially very durable over time
Refer to the safe products manufactured in our factory:
Set up specialized products for hotels
Ket sat ngan hang Safe installation, large usage capacity
Specialized tu ho so for corporate offices
ket sat van Phong is manufactured with the most advanced technology today
ket sat family for family use, with compact weight and size
ket sat korea product samples of safes imported from korea and models of safes exported according to Korean technology transfer
ket sat saigon to serve the needs of customers in the HCMC market
ket sat ha noi to serve the needs of buying and using safes in Hanoi
ket sat mini compact design, safe, convenient to arrange the room
Safe lock is equipped with an anti-theft and anti-copy lock system
Ket sat chong chay can withstand temperatures up to over 2000 degrees Celsius
ket sat export products to meet the needs of the US and Canadian markets
ket sat a safe deposit box with separate safes for storing assets in the bank
Super ketchup is manufactured with 100% imported materials.
The hand valve uses modern fingerprint recognition technology to unlock
ket sat doi ma with a lock code system of up to 1000 different codes
The company safe well to the needs of each business choosing to buy a safe
ket sat chong trom with a large weight so it is effectively anti-theft
Dedicated, compact, safe and secure earphones for families
ket sat bao dong is equipped with a lock code system that alarms when there is a collision
Wheel System for Easy Mobility
Tủ Hồ Sơ Fire Resistant File Cabinet FRC4 Fire Resistant Cabinet The base of the cabinet is arranged with 4 solid cast wheels to create certainty and convenience in moving. Drawers are made of polished steel, strong opening and closing ability. Standard thick flame retardant layer with outstanding fire resistance up to 1,200°C for 2 hours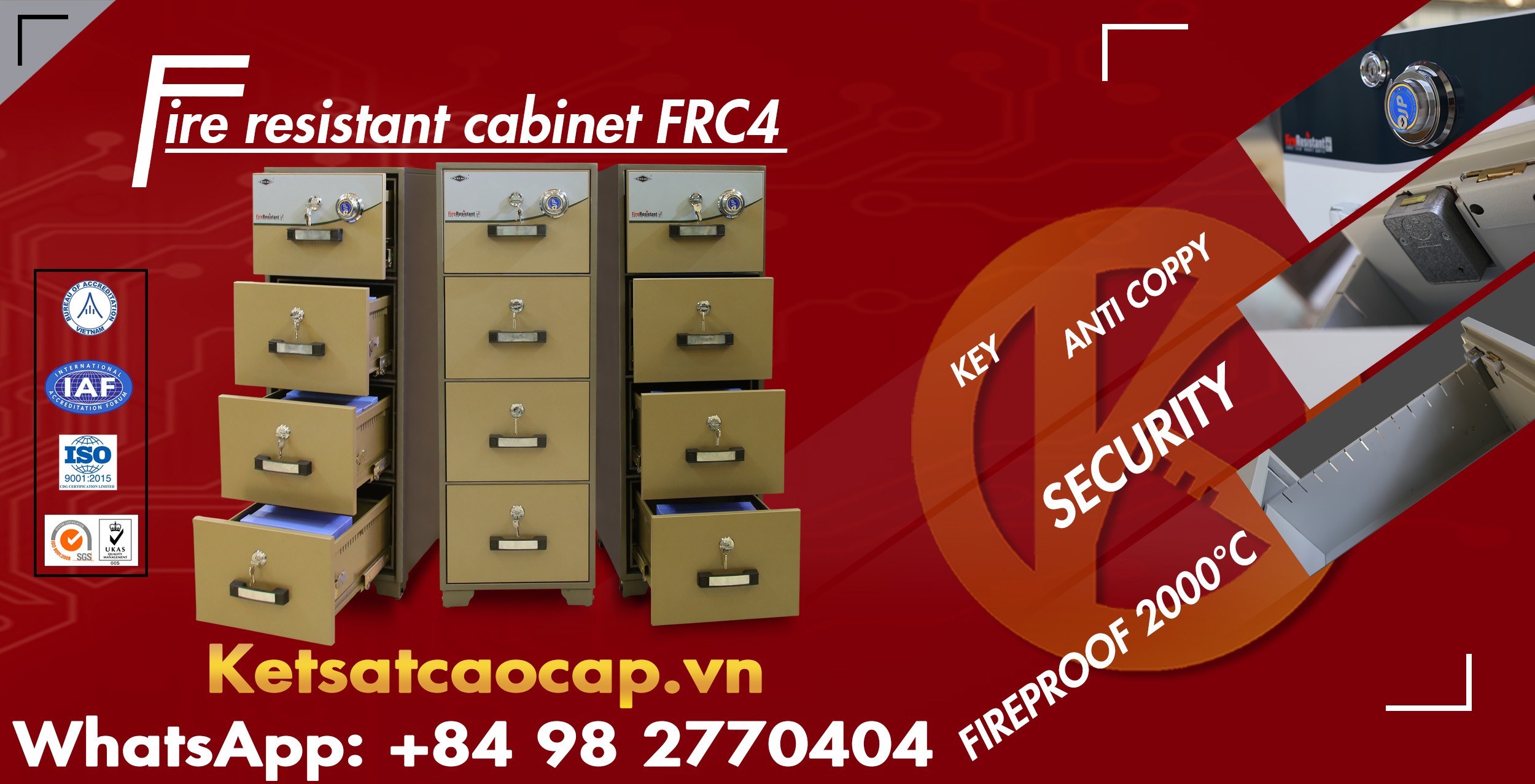 The Most Prestigious FRC4 Fireproof Bank File Cabinet in the Market
Fireproof bank file cabinet is a line of unique designed office cabinets, novel designs. This product is made of high quality steel. In addition, iron cabinets also help your office neater and more spacious. The 4-compartment fireproof bank file cabinet also has the following outstanding features: The cabinet has 04 compartments, the first compartment allows the remaining 03 compartments to be opened, the doors all have handles to make opening and closing easier. In particular, each compartment is designed with a smart function inside to divide each compartment, horizontal and vertical hangers suitable for all types of documents - records to help users easily store, store and easily find. when needed.
Choose to buy a bank file cabinet for your business
Office file cabinets are now trusted by factories to equip in their units. With agent stores nationwide. Currently, the bank file cabinet factory is ready to serve all the needs of customers to choose office file cabinets. Modern production technology platform with automatic lines. Bringing high quality WELKO Safes Cabinet 1-door file office cabinets. Meet the needs of customers to the maximum. fireproof bank file cabinet government agency WELKO Safes Cabinet is designed to be simple and convenient. Make it easier and faster for customers to use. Surface powder coating material. Helps keep the cabinet shiny and durable. With the product models of fireproof iron cabinets WELKO Safes Cabinet are trusted by many customers to choose.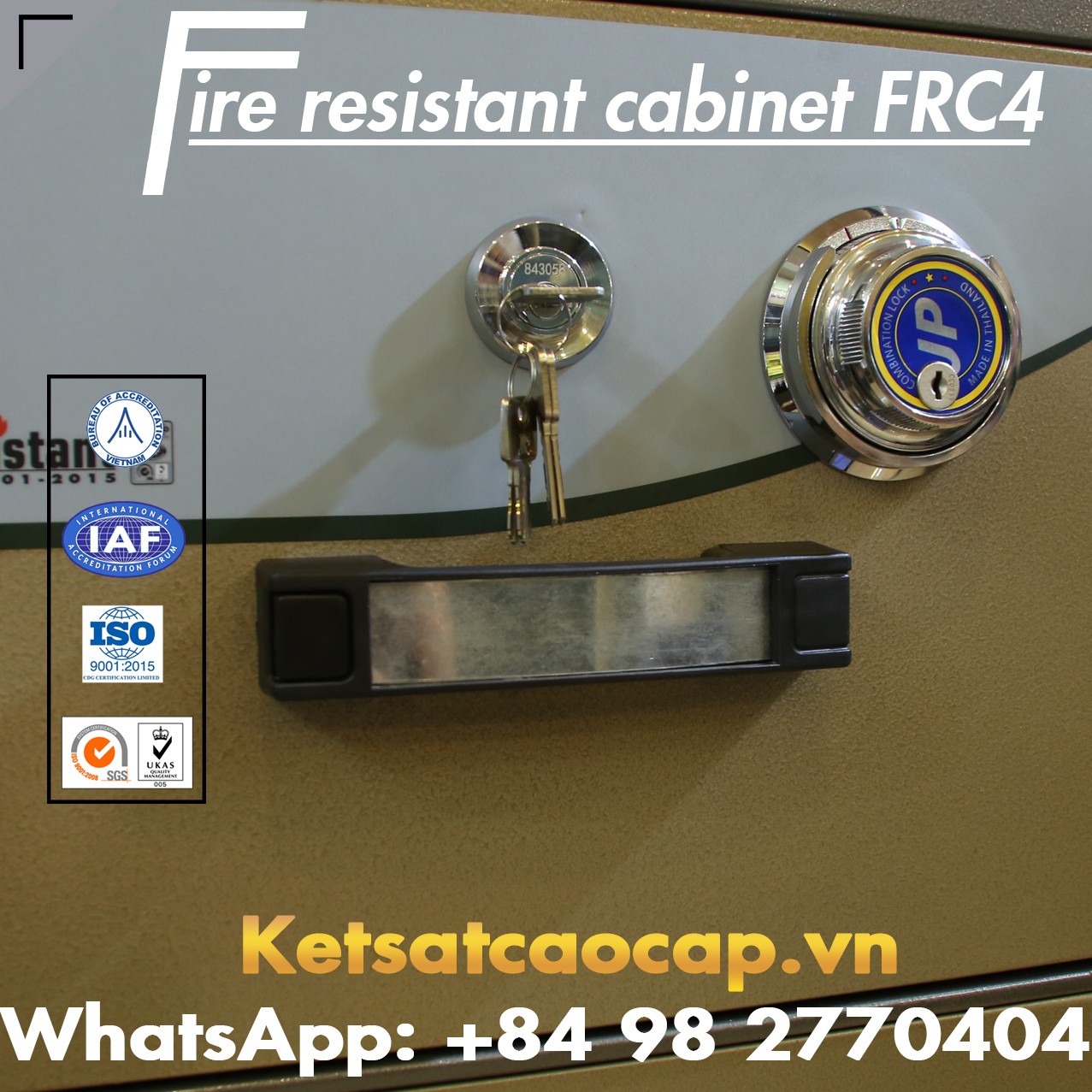 Contact to order a bank file cabinet directly from the factory The high-class filing cabinet factory under the banking equipment and materials company is now a reputable file cabinet manufacturing address. With over 20 years of experience in the field of manufacturing file cabinets for banks, security warehouses. We are currently supplying filing cabinets for the domestic market and exporting to countries around the world. Bank file cabinets are one of our typical product lines up to now. If you are in need of office setup or transaction stores that need to use file storage, please contact us directly for the best bank file cabinet quote.
Currently, the high-end iron cabinet factory is a prestigious address

High-end bank file cabinet factory Contact us immediately at 0982770404
100% genuine and new product guarantee
✅ Commitment only bring customers the best products.
✅ Working from 7am to 10pm on Saturdays, Sundays and public holidays
✅ Free advice on ordering, manual, and warranty at home.
✅ Payment upon receipt of goods and have been thoroughly checked (transfer is possible)
✅ Any questions about the product or need advice on explosion-proof file cabinets.
? Please leave your phone number or IBOX directly for advice.
? Free fast shipping nationwide - Pay on receipt.
☎️ Hotline: 098 2770404 Serving 24/24h
? Receive Order Iron Cabinet On Demand.
? Website: http://ketsatcaocap.vn